---
Contribution by Courtney Wylie, Mention Me. Originally featured here.
---
Ethical, sustainable and organic are more than trendy buzz words.
Concern for our planet is heavily influencing consumers' buying decisions, from the clothes they wear, to what they eat and how they invest.
It's not just millennials and Generation Z driving this shift to conscious capitalism – 49% of all consumers are more likely to recommend brands that address environmental concerns.
But with more and more brands claiming (often dishonestly) to go green, it can feel tough to cut through the noise to acquire – and keep – target customers.
Against this backdrop, one marketing channel stands out as a way to cost-effectively grow your eco-friendly business: referral.
Here's why refer-a-friend campaigns deliver remarkable results for eco-friendly challenger brands.
Recommending ethical businesses makes us look & feel good
Social capital is the biggest driver of referrals. More than getting a great discount, complimentary gift or free delivery, customers want to look good in front of their friends. That's the
psychology of referral
.
And what looks better than caring about the planet?
By telling others about environmentally-friendly brands, we're also telling them we're in the know and doing our bit to make a difference.
Plus, it's an easy way to drive positive change. Taking on a zero-waste lifestyle feels daunting, but encouraging friends to cut down on single-use plastic with brands like Wild is straightforward. And it can cause a ripple effect far more powerful than anything you could achieve alone.
We build upon this with clients like allplants, OVO Energy and Frugi by adding an element of sustainability to their referral incentives.
allplants, for example, ran a campaign vowing to plant a tree in Zambia for every successful referral. So its customers helped the planet in a number of ways: eating vegan, encouraging their friends to do the same, and adding a new tree to the world. Not bad for taking a few seconds to share a referral offer.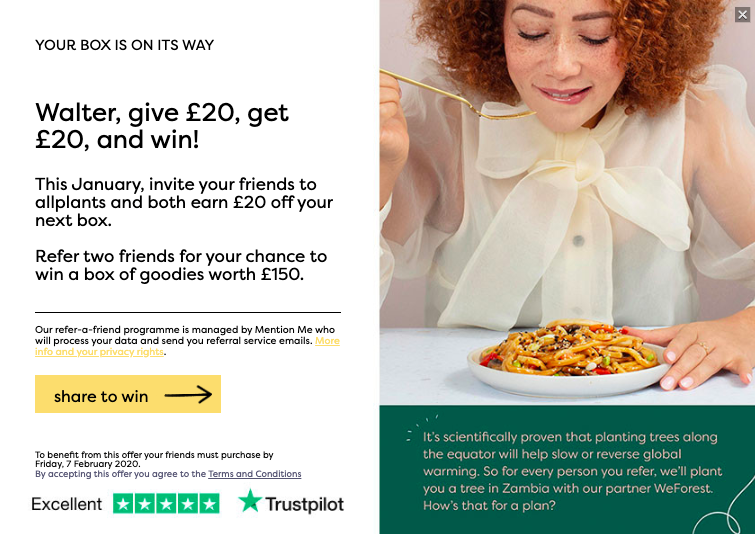 allplants vowed to plant a tree for each successful referral
Sustainability is topical and on-trend
There's no avoiding it: conversation about climate change and sustainable living is everywhere. It's both topical, permanently in the news and social media, and on-trend, with
eco-friendly brands being the coolest way to shop
.
Rather than despair at melting ice caps and burning rainforests, telling friends about environmentally-friendly brands makes us feel like we're taking a small bit of action to positively contribute to the conversation.
It also provides a trigger for your brand to come up in conversation. Whether that's watching the news, chatting about eco-friendly living, or telling someone your new dress is a rental piece from one of the many emerging clothes hire companies.
Everyday life triggers brand recommendations
There are now ethical and sustainable brands across every sector. Though some are more visible than others - red lipstick, for example, is more likely to spark a comment than your heating supplier - there's still a strong chance of acquiring referred customers via less obvious topics of conversation.
Take Mooncup, for instance. While the thought of chatting about menstrual cups may make some people recoil with horror (looking at you, men), a significant proportion of the population get a period every month, and the taboo of talking about it is fading. In this context, a woman telling their friend about an environmentally-friendly period product they use is likely to stick. Even if the friend doesn't convert to a new customer right away, their period arriving each month will act as a reminder (tapping into the stimuli part of driving successful referrals). The stats speak for themselves: around 50% of Mooncup's business comes from word-of-mouth marketing.
Another sector that may not immediately spring to mind when considering sustainability is finance. Yet a number of emerging financial brands are rooted in this very consideration. tikr, for example, lets users easily invest in global companies that are both making a profit and solving social and environmental problems.
Meanwhile, in the utilities sector, brands like bulb are making energy simpler, greener and cheaper - and has grown exponentially to become Britain's biggest domestic supplier of renewable energy.
There's brands out there to make every part of our lives more eco-friendly. The trick is to get your brand's message to the right people, at the right time. And referral can do just that.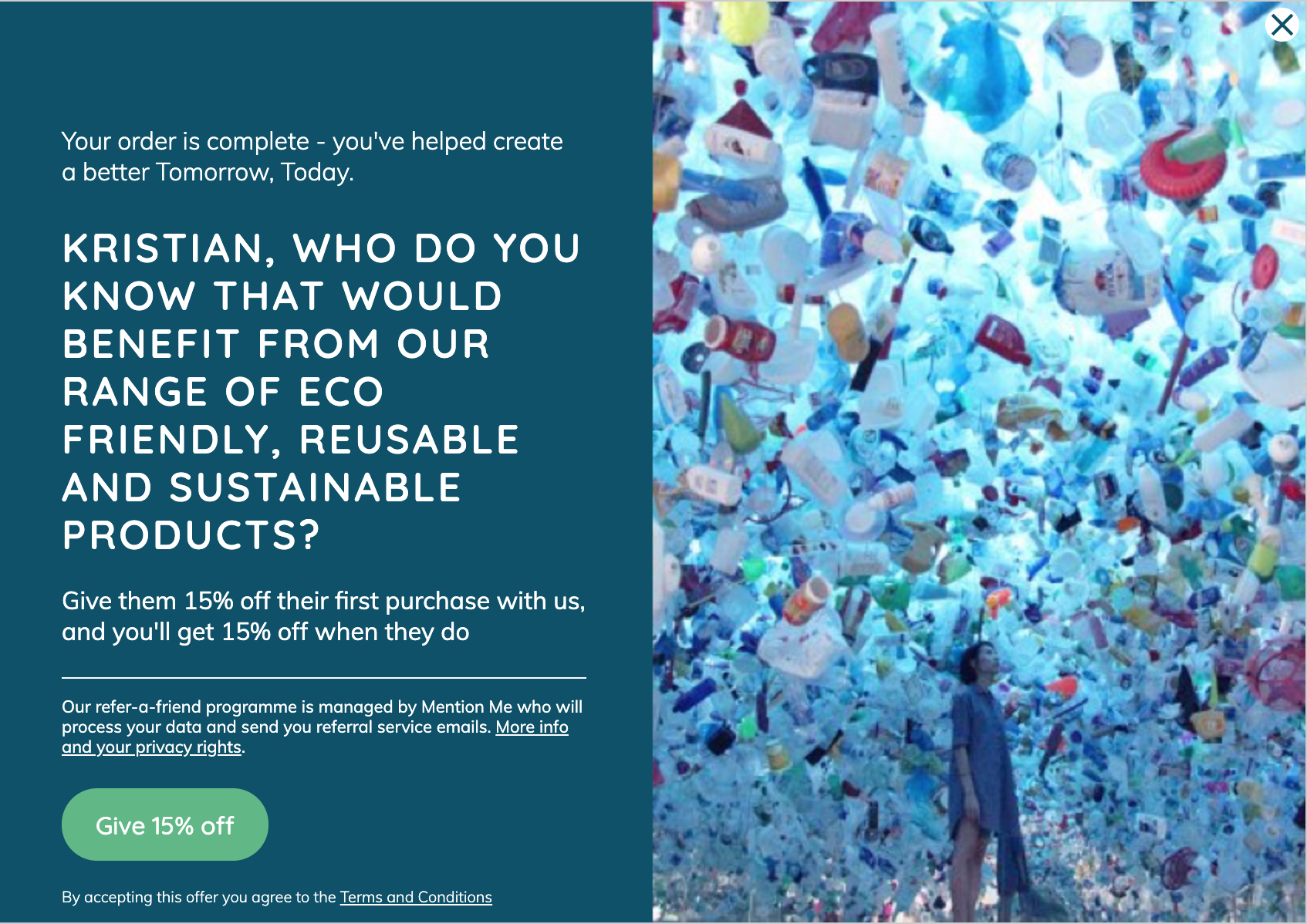 Changing to sustainability-related imagery significantly increased &Keep's referral share rate
Be a sustainable business in more ways than one
There's undoubtedly a strong (and growing) appetite for sustainable living. By implementing a referral programme that encourages, tracks and rewards those customers recommending your brand to others, you can fuel long-term, sustainable growth.
Unlike traditional or digital marketing campaigns, encouraging happy customers to spread word of your brand is cost-effective, with measurable return on investment and a lasting impact. An effective refer-a-friend programme will spark continuous organic growth as referred customers refer their friends, who refer their friends, who refer their friends… you get the idea.
Referred customers have 2x the lifetime value and are 3x more likely to recommend their friends than customers acquired via other channels.
People genuinely want to make a difference. Your brand helps them do that. Our platform makes it easy for more people to discover it. What are you waiting for?
---
For more information on the services offered by Mention Me, head to their website.